As a professional hypnotherapist helping many people with a variety of problems, I recognize that not everyone can afford one-to-one help.
To make hypnosis affordable and accessible to everyone, Hypnosis Downloads produce an extensive list of Download hypnosis MP3s which you can listen to on your iPod, your Smart phone, your computer or burn to a CD. You then have them to listen to again and again should you so require, particularly the ones about relaxing or de-stressing. Just make sure you do not listen to them when driving!
They have over 800 single subjects, covering all sorts of subjects, for example:
Act on Your Ideas
Boredom Eating
Breastfeeding Relaxation
Business Networking Confidence
Chemotherapy Nausea
Relax after work
Most single subjects cost just few a pounds. They do supply the MP3s on a CD if you cannot or do not wish to download them.
There are also several packs or programmes, for example:
10 Steps to Powerful Public Speaking
10 Steps to Overcome Insecurity in Relationships
Complete Stress Management Pack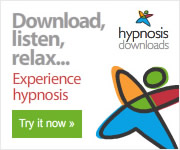 I really recommend Hypnosis Downloads. I use some of the MP3s myself eg 10 Min Power Nap and Tinnitus Treatment. This last one really helps me cope with the constant gushing noise in one ear following surgery.

All the hypnosis downloads are created by a team of four experienced hypnotherapists, all with a British accent. They have this to say:
"Not all hypnosis is the same, and some is downright peculiar. But we work hard to ensure our psychology is sensible and research-supported, plus we have 5 main points of difference...
4 experienced therapy brains work on every download. And we work very hard to ensure every download is a work of art.
We're experienced therapist trainers - formed in 1995 we've trained over 24,000 people since then at face-to-face events.
We've served over 500,000 hypnosis downloads and are the biggest hypnosis provider in the world.
Between our team of 4 hypnotherapists, we have treated over 5,000 patients in personal 1:1 therapy.
Over 600,000 people have taken our email courses since 2000 when we launched our online business."
There are also some subjects for children. Children really enjoy hypnosis and we usually recommend that they be at least 7 years old so that they can concentrate.
Have a look at the wide variety of MP3s offered by Hypnosis Downloads. There are bound to be some that catch your eye and I know you will find them useful. Just being in a wonderfully relaxing hypnotic state is a feeling you will enjoy.
Antonia Harrison is the English Skype Hypnotist offering Freedom from bad habits, addictions and fears to clients in the UK or worldwide over Skype.